Rakuten Viber and Voicy are proud to announce their partnership, aimed at introducing short audio clips to your online conversations.
GIFs and Memes have been established as one of the most popular features, particularly in social media and messaging platforms. Now, the popularity of voice and audio tech, is on the rise. This audio content boom has not been unnoticed by big tech companies, as it has drastically changed the way we use and consume audio. Rakuten Viber, one of the most popular and widely-used messaging apps in the world, and Voicy have teamed up to provide an exclusive experience on the Viber platform. The collaboration is aimed at empowering Viber's millions of users to use more engaging and fun ways to express themselves, allowing them to enrich their texting with audio quotes, sound memes, and other sound effects. On the basis of their technology and platform, Voicy has created a unique multi-language chatbot, where all users can now create their own Voicy sounds, search for existing ones, and share them to their friends and family within just three clicks! To top this up, users will now have access to a Voicy sticker pack, too, which is meme-based and sounded – to add some extra vibrancy to online chats! The stickers will also transfer users to the Voicy chatbot. The partnership opens up a completely new form of communication within user's digital conversations.
"Texting is the most popular feature on our platform, and we always aim at introducing new ways for our users to interact in a more engaging way." said Petya Kamburova, Business Development Manager at Viber. Petya Kamburova added that "Innovation and exclusive collaborations, like the one with Voicy, enable our users to communicate in a more expressive, personalised and native way, acting as the digital form of non-verbal cues in real-life conversation, like gestures and facial expressions.". "As visual and audiovisual media is currently used by the majority of users, short audio gives a new, fun and engaging feel to your messaging" said Joey de Kruis, COO at Voicy.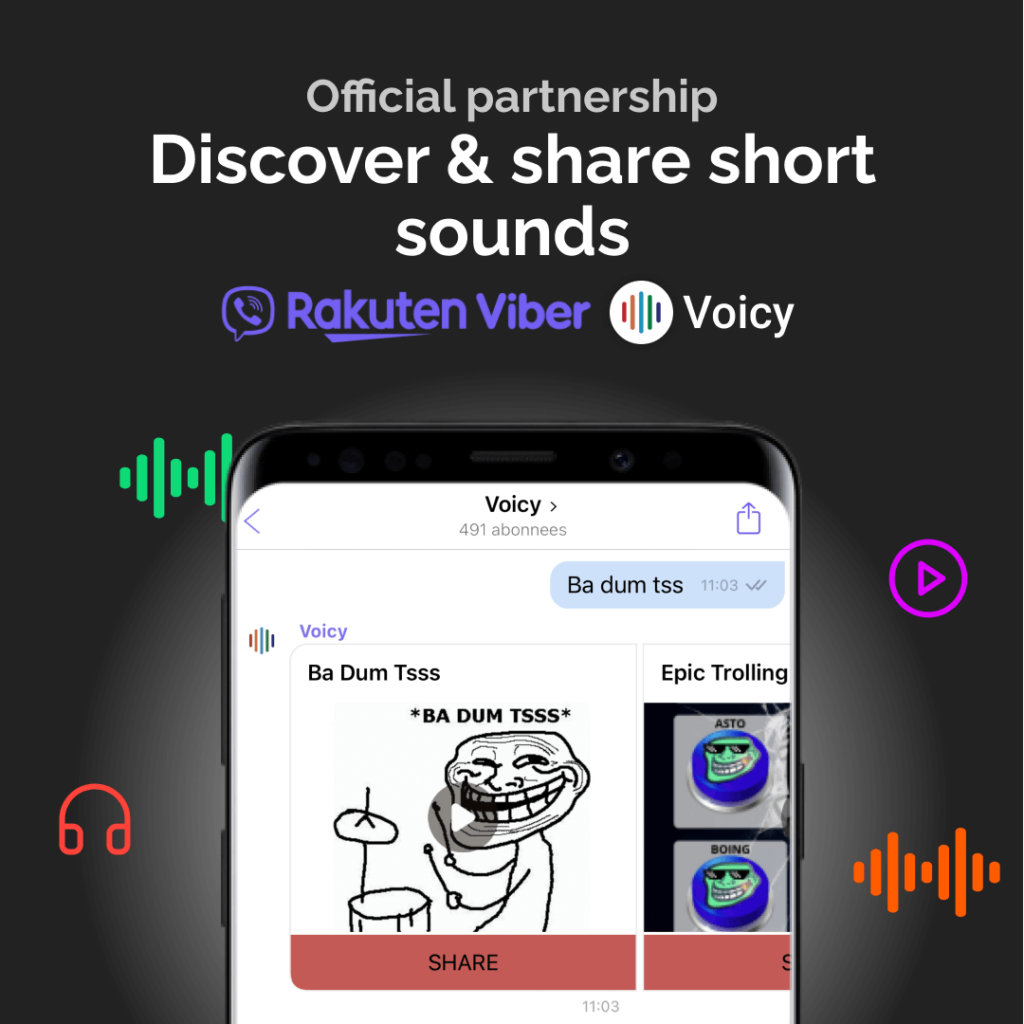 About Voicy
Voicy is a Dutch start-up that is focused on creating a user-centric platform for short audio clips. By using the latest technology, Voicy seamlessly enables users to discover, create, and share audio clips. Their goal is to integrate sound-clips and soundboards within various messaging apps and gaming platforms, being like Tenor and Giphy but then for sound.
With Rakuten Viber joining the platform as a major partner, Voicy is now being exposed to millions of new users. And able to set its first steps towards their long-term vision of becoming the sound engine of the internet. Both co-founders Joey de Kruis & Xander Kanon are beyond excited. COO Joey de Kruis shared, "By partnering up with Rakuten Viber, Voicy is making a big leap forward on becoming the home of short sound and providing short sound clips to potentially hundreds of millions of users", on which CEO Xander Kanon adds "Sound-clips have been out there since forever, We are now on the verge with Voicy to disrupt the way we communicate within social media by putting sound-clips and soundboards to practical use for the first time in history".
As the Voicy story develops, we are confident that we will hear a lot more from them. Visit Voicy and start using the platform yourself and no longer miss out on any further developments www.voicy.network.
About Rakuten Viber
At Rakuten Viber, we connect people. No matter who they are, or where they are from. Our global user base has access to a range of features like one-on-one chats, video calls, group messaging, and updates and discussions with their favourite brands and celebrities. We ensure our users have a secure and free environment to share their emotions.